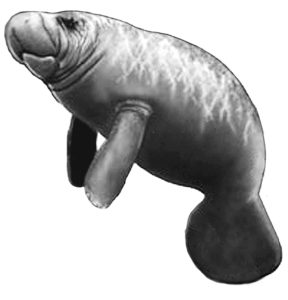 Manatees are large, marine mammals, sometimes known as sea cows. Generally, they're gray or brown. As Mia said in the story, an adult can weigh over 2,000 pounds and grow to 13 feet in length, but most are smaller. Their closest relatives are elephants, and manatees even have elephant-like toenails at the end of their flippers.
In the wild, manatees mostly eat plants, such as mangrove leaves, turtle grass and algae. Since adult manatees can eat over 100 pounds of food each day, they spend a lot of their time grazing in warm, shallow coastal waters and rivers. When manatees are in an aquarium, lettuce is their favorite food.
After they're done eating, manatees usually spend about half their day sleeping underwater, surfacing for air regularly at intervals no greater than 20 minutes.
Manatees and their underwater cousins, known as dugongs, live in several regions throughout the world: the Caribbean, West Africa, the Amazon and the Indo-Pacific. In the United States, manatees are generally found along the Florida coast, although one or two occasionally swim much farther north. In order to stay warm in the winter, most manatees migrate south. However, some prefer to hang out in the warm water discharged by power plants, or in warm-spring fed rivers, such as Florida's Crystal River, Orange River, Homosassa River, or Chassahowitzka River.
Manatees are an endangered species, which means there are very few of them left, and if we don't take care of them, they could become extinct. If you're interested in learning about how you can help save manatees, you should visit the Save the Manatee Club.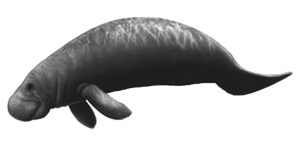 Manatees can be seen live at the Manatee Viewing Center in Apollo Beach (they also have two webcams), Lowry Park Zoo in Tampa, Mote Marine Laboratory in Sarasota, Disney World and SeaWorld in Orlando, and the Miami Seaquarium. The Ellie Schiller Homasassa Springs Wildlife State Park has underwater and above-water webcams with both live and recorded videos.